Rent a Lederhose
Make your reservation now!
Absolutely free and non-binding
No credit card details are required
Corporate Clients
You are a large group of people? You need the costumes delivered to your hotel? You may need service staff on site?
We are more than a classic costume rental. we are your local partner agency!
We support you with our experience and know how!
Lederhosen rental
& Dirndl rental
Do you want to rent a Lederhose, the traditional bavarian outfit with socks and dress shirt or a Dirndl and shoes? You are exactly right with the Bavarian Oufitters. We rent Lederhosen and Dirndl for more than 8 years!
Give us a call or you book online without any risk (no card information required)
Overview for Dirndl and Lederhosen rental
Group discount
Sure, we offer group discounts or hotel delivery service for groups.
Get in touch with us!
Corporate Clients
For corporate clients we offer special services.
Do you accept cards
yes we do. We accept cash, Debit and credit cards
Where is your store
Our stores are  located at:
Auenstraße 31, 80469 München &
Schwanthalerstr 83, 80336 München
Business hours
During the Oktoberfest and Springfest our store is open daily from 09.00 am to 06.00 pm.
Please note that our business hours in the off-season are only by arrangement. Please contact us!
How does it work
Really easy! Book online and pick up your Outfit at our store!
Basically a rental day ends at the next day at 11.00am.
Have a closer look to "how it works"
Cleaning
the cleaning of the rentals is included in the rental price!
Pricing
We have set up a simple pricing model for all products.
Find all prices here ->
Rent a Lederhose
Make your reservation now!
Absolutely free and non-binding
No credit card details are required
Availability
Check the availability online in our reservation system!
With over 1500 items we are sure that anyone will be satisfied!
over 60 different models
We offer a wide range of models.
From shorts to knickerbockers Lederhosen, dark-brown or light-brown, with or without embroidery.
We are sure that anyone's taste will be satisfied.
Dirndl rental
Pick up your hired Dirndl or Lederhosen directly from our store.
We recommend a reservation in advance in our booking system.
The reservation is easy and absolutely free and non-binding. No credit card details are required.
Lederhose and Dirndl rental
+10000 customers trust our service
This is our passion. We have continuously developed our business after starting with only a few Lederhosen and Dirndl.
During the Oktoberfest work hard to offer you an impeccable costume.
Tailors, bookers and personal assistants for our business partner and much more helping hands are working on daily business.
Even during rush hours our employees always assist you with any questions you may have. This is what differs our service from a classic costume rental.
Service is our top priority – not only for corporate clients.
There is also the opportunity to rent a costume off season. Please give us a call to make an appointment if you want to visit our store.
Bavarian Outfitters also ship Lederhosen, Dirndl or Haferlshoes. No matter you are planning a corporate event in Hamburg or a wedding in Cologne. We will help with words and deeds. Just give us a call or send us an email.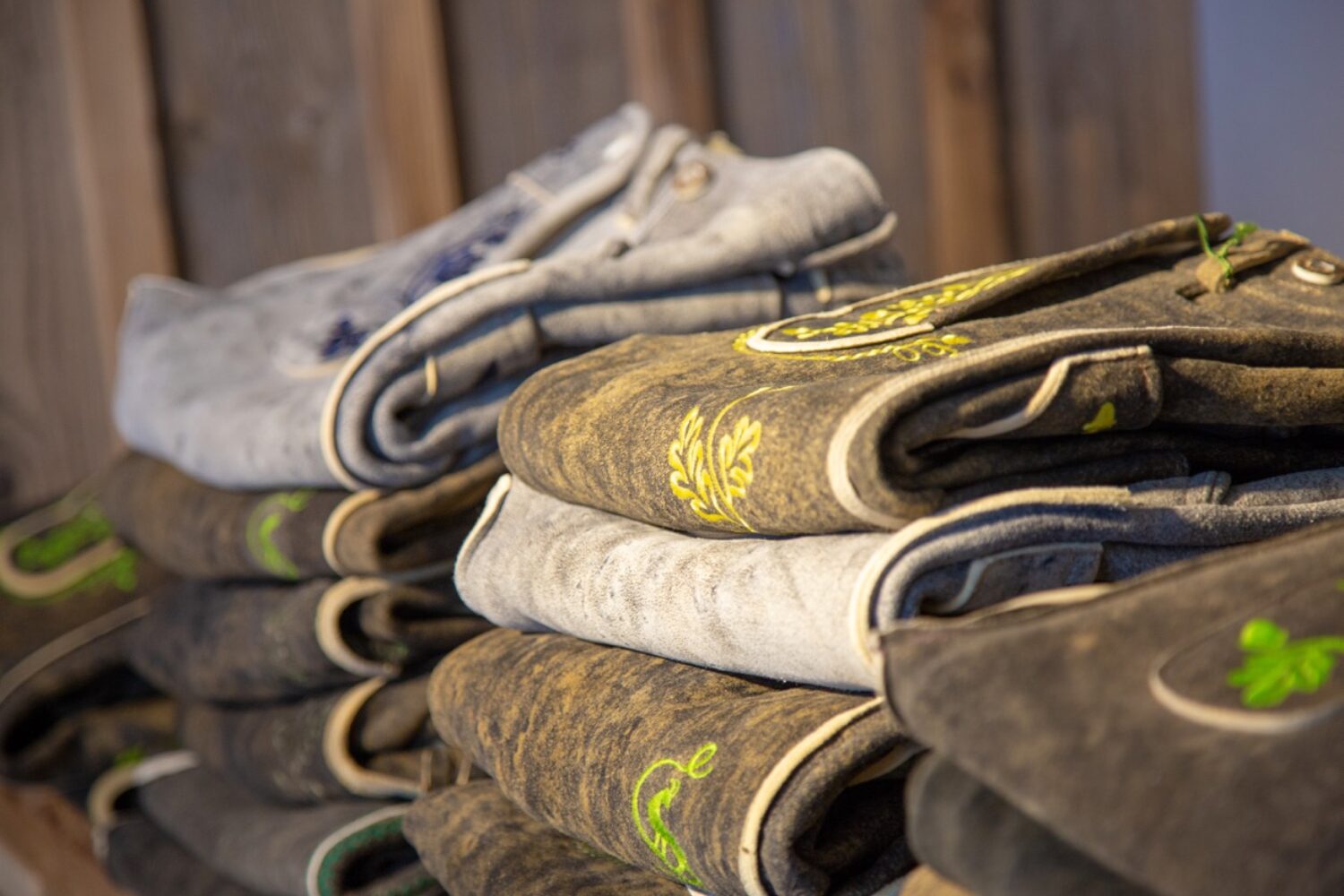 €35,90
one rental day incl 19% VAT
various models
return at the next day
second rental day 50% discount
Lederhose Set
Lederhose, shirt & socks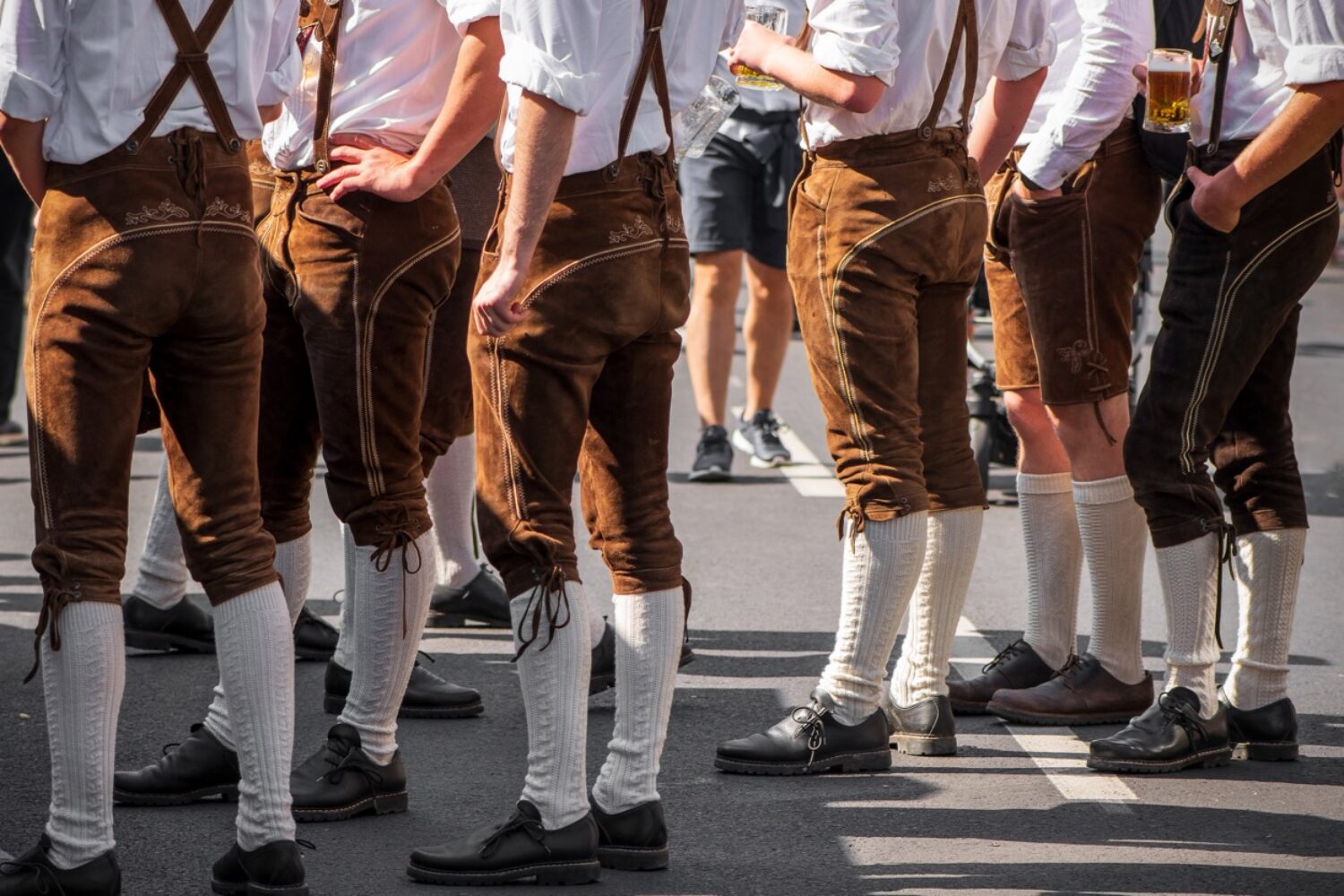 €54,90
one rental day incl 19% VAT
Lederhose & shirt & socks
returnat the next day
various models and colors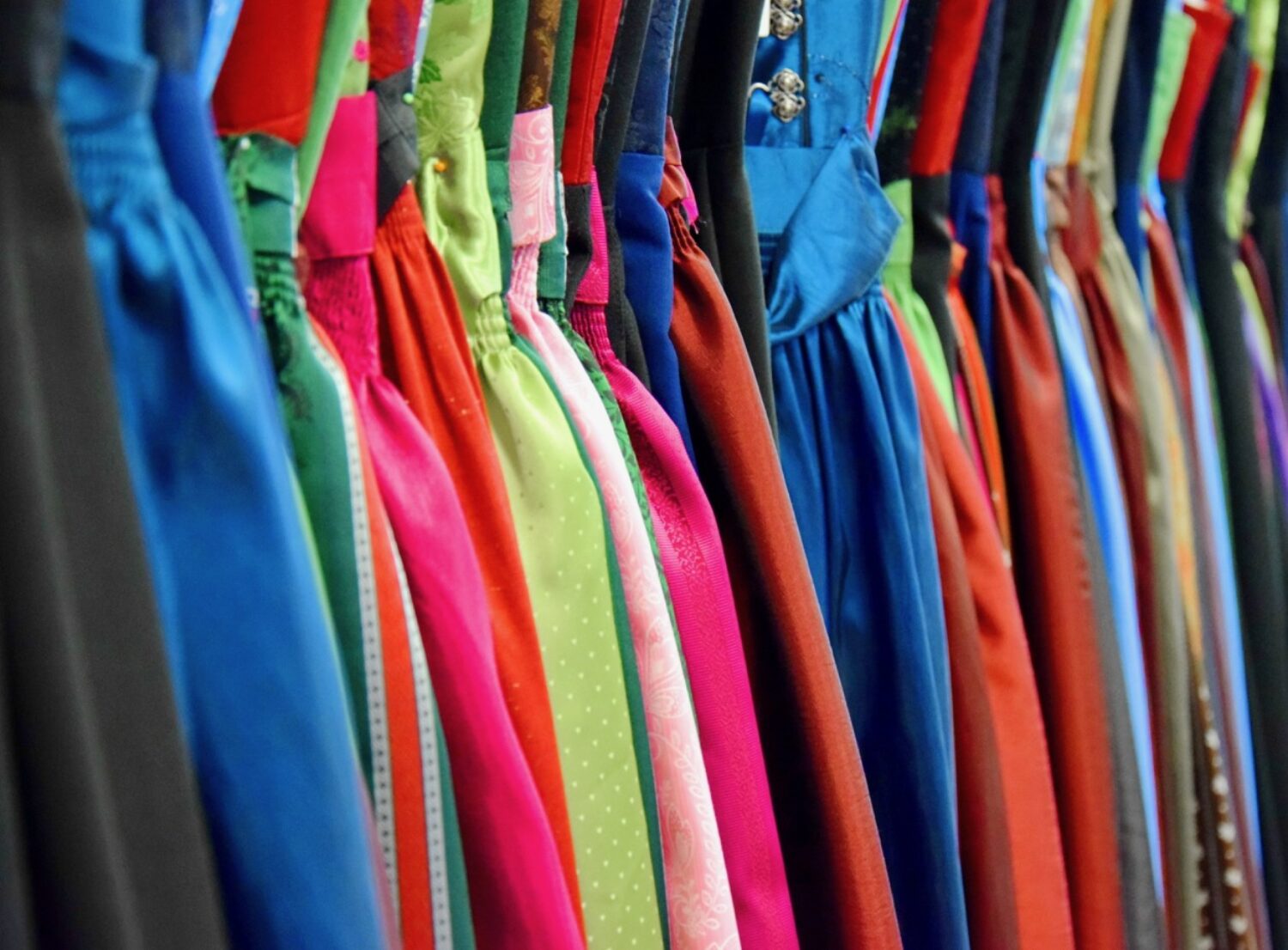 €47,90
ein Leihtag ink. 19% Mwst
Sizes from XS to XXXXL
over 60 different models
return at the next day
incl apron and blouse

Reservation
Make your reservation online!
Date and size is required, choose your color and model model upon pickup

Pick up
Choose your color and model in our store.
We have 14 changing rooms available.
You can pay Cash, or with Debit/Credit card

That's it
Have fun with your costume.
Basically one rental day ends at the next day by 11.00AM
Bavarian Outfit rental for corporate clients
Our service for business customers:
– delivery and pick-up in your hotel
– onsite service with staff
– delivery in personalized bags
– multi-lingual staff
– a high degree of flexibility
With a capacity of over 750 Lederhosen and 450 Dirndl we can easily equip large groups. With years of experience we will assist you right from the beginning of your planning. From the delivery of the costumes to mobile dressing room on site – we follow your needs and offer the right service.
Lederhosen rental up to 5 persons
With our help you can quickly and easily get your costume. All you need is your dress size and the exact date, by now you can book your Lederhose, Dirndl or another costume in advance and assured in our reservation system. Alternatively you can visit our store even without reservation but we can not guarantee the availability of your size. Only during the Oktoberfest we have fixed opening times, if you want to rent a costume during the year you can visit our store after consultation.
Does a costume has to be expensive?
No! Most people don't want to pay a fortune for buying festive clothes especially if they worn rarely or only on special occasions (such as a visit to the Munich Oktoberfest). Bavarian Outfitters – The rental agency of Lederhosen with an unbeatable price!
Corporate Clients and Groups
Are you planning a company trip to the Oktoberfest? With Bavarian Outfitters you have come to the right place. Since having been in business we have been continuously following the changing demands of our customers and converted from a classic costume rental to a full service agency.
We continue to put great effort into meeting your individual needs.
Rent a Dirndl
Not only Lederhosen are very trendy. More and more woman are choosing a traditional costume to go to the Oktoberfest. We offer more than 450 Dirndl in many different variations, even large groups of people won't look uniformed.
When selecting we particular paid attention on Dirndl with classic cut, not to short so it does not look stuffy or too conservative. All Dirndl of the Bavarian Outfitters are 100% cotton and are comfortable to wear.